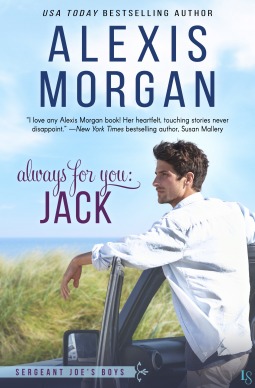 Title: Always for You: Jack
Series: Sergeant Joe's Boys, Book 1
Author: Alexis Morgan
Genre: Contemporary Romance
**Disclaimer: A copy of this book was provided to me in exchange for an honest review.
No one understands family loyalty like Jack McShane. He'd do anything to honor his foster father's last wishes, even if it means putting his own plans on hold to manage Joe's construction business. An ex–Special Forces operative, Jack thrives on the thrill of globe-hopping rescues. But now he's needed closer to home. His foster mother has her hands full with a troubled teen, and when Jack meets the hired tutor, he discovers a woman who stirs his protective instincts—and his deepest desires.

Caitlyn Curtis knows that good looks can hide a hot temper. After an abusive marriage crushed her dreams of a happy ending, she swore off men—until one intoxicating dance in Jack's strong arms breaks down every emotional barrier. Tough but tender, he leaves Caitlyn yearning for more of his gentle seduction. Despite the violence he's seen, Jack is a good man. And even though passion can be dangerous, the promise of Jack's kiss tempts her to believe that love is a risk worth taking.

Always for You: Jack
was my very first read by Alexis Morgan and I really enjoyed this book. While the heart of the story is the importance of family, Ms. Morgan delves deeper into the intricacies that coincide with unconventional families that are made of people with big hearts for foster kids. Sergeant Joe was a man who believed in giving troubled teens a chance at a better life and he instilled those goals into his adoptive sons.
The story begins when he passes away and his sons have to come back home to help keep his construction business afloat. Being the only one available to dedicate the time needed to keep the construction business going, Jack is chosen to take over duties until his brothers can join in. While working a job, Jack discovers a homeless boy who reminds him of himself, and given his history, he believes he has just what the kid needs....a home where someone will love him.
The romance between Jack and Caitlyn was a slow build and I for one appreciated the idea of an old fashion courting rather than an insta love situation. I thought both Jack and Caitlyn had their individual demons but they were able to bond over a common goal, which was to see that Ricky had everything he needs. These two had chemistry from the very start and it was evident when they finally took a chance to be together that they would be a perfect match.
Overall, I really enjoyed
Always for You: Jack
and I'm looking forward to reading the other books in the series. I'm giving this one 5 Sizzling Keys!