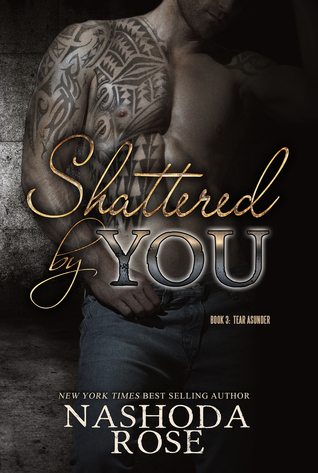 Title: Shattered by You
Series: Tear Asunder, Book 3
Author: Nashoda Rose
Genre: Contemporary Romance
Rating: 5 Sweltering Keys
*Disclaimer: A copy of this book was provided in exchange for an honest review.
What started out as a deal quickly became a friendship that conquered monsters.

I killed, but I escaped hell.
Emotionless. Disconnected. Cold. A mannequin. It's what I'd become in order to survive the years held in captivity. I was able to endure the abuse and devastating loss as long as I remained detached.

But he wouldn't let me.
Crisis, the bass guitarist in my brother's rock band, Tear Asunder. He's cocky, rude, a total man-whore. But the rock star has far more beneath the surface of his inked skin, and he's determined to make me laugh again.
He made me a "deal", but really, it was blackmail.
His terms were simple. Until his playful honesty became the building blocks to something unexpected. Something strong enough to pull me from the eye of the storm.

Because even though I escaped years of abuse, it didn't mean I was free.

For mature audiences only.

5 Spectacular Stars
for this emotional rollercoaster of a read. Nashoda Rose does battered heroes and heroines like no other author and I have yet to finish one book in this darn series that didn't leave me crying like a baby but loving every minute of it!
Shattered by You
is no different and going in I knew I would bleed for Haven but I had no idea that crazy, flirty, womanizing Crisis would absolutely steal my heart.
Haven has been through hell and back and being the twin sister to band member Ream, she wants nothing to do with the attention being his sister brings. She exists only to try to find a way to live while hiding the demons that haunt her from the brutal past her and Ream suffered together and then later on her own. Being invisible is what she does best by creating shields of ice so that her emotions never leak out. Letting Ream know how deep her demons truly go is her greatest fear and facing those demons is also her way back from the darkness into the light.
Crisis saw past Haven's shields for the very start. He knew that she built shields of ice around her emotions and that the things that haunted her would be deep. He sought to reestablish a connection between the twins and found himself coaxing pieces of Haven back from the dead. What set out as a favor for his brother turned into a life changing event. Will he crack once he knows the depth of Haven's demons or will he just stand by her side and help bring her out of her lifelong darkness.
I absolutely beeping LOVED this book. Crisis showed a patience that I did not expect and his way of bringing Haven out was just magical. I loved that Rose allowed it to happen over a long period of time and I really loved that Haven's relationship with Ream played a secondary role in the book. The two needed to heal but Ream did not need to be the person carrying her baggage. Haven needed to give the load to someone new and someone who didn't have just as many demons as her.
Shattered by You
was awe inspiring and I can't wait to see what happens with Kite's book. Rose delivers a bit more insight into his character and now I wondering just who will be the one to take him on. I'm giving
Shattered by You
5 Amazing, Sweltering Keys!