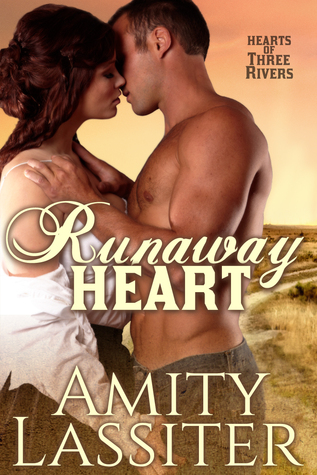 Title: Runaway Heart
Series: Hearts of Three Rivers, Book 1
Author: Amity Lassiter
Genre: Contemporary Romance
Rating: 4 Sizzling Keys
Disclaimer: A copy of this book was provided to me by Net Galley in exchange for an honest review.
Ren Maddock wouldn't call herself a runaway, but when she's backed into a corner by a childhood she'd rather forget, she's chosen flight every time. With her teenage sister in tow, Ren picks Three Rivers, Colorado and hopes that it will provide them with the quiet, simple life she's been looking for. She doesn't expect responding to a job ad will have her suddenly wanting to break her only hard and fast rule: never lay down roots.

Dane Baylor already has his hands full running the family cattle operation when a tragic accident leaves him as his young nephew's legal guardian. Before long, he finds himself over his head and desperate not to betray the trust his brother put in him. He doesn't know how badly he needs Ren until she shows up and balances out not only his life but his heart.

For the first time in years, Ren feels safe, and despite her best efforts, believing in the happy life she could have with the man who offers her the love she's never known. But when her past comes knocking, threatening her new family and her new life, she may have no choice but to fight for everything she holds dear.

Runaway Heart
is the debut book by new author Amita Lassiter and for me she nailed it! I was instantly drawn into the story and instantly found myself reading it straight through. Lassister does an excellent job developing the individual characters while building a strong desire to see Ren and her sister Kerri finally experience what it's like to have a home and a family.
Ren Maddock hasn't known love, peace and acceptance since her father passed away a long time ago. After years of her mother's abuse, both physical and emotional, Ren decides it's time for her to leave home. Loving and caring for her younger sister Kerri has become second nature for her so she moves out but remains close so that she can check on Kerri as often as possible. When Ren and Kerri's mother Anita goes too far one night, Ren decides the best thing for her and Kerri is for her to take her sister and leave. That was four years ago, and the two have been on the run since. Making the decision to try to find roots and settle down to give Kerri the stability she needs, Ren moves the two across the country to the small town of Three Rivers.
Dane Baylor was content to live his life having fun, not committing to any woman, and running his family cattle ranch until tragedy causes him to become a responsible adult. Name guardian of his young nephew Gage, Dane has been struggling to balance parenting a young boy while running the ranch. When Gage falls and breaks his arm while Dane was working, he's forced to admit that he needs help. Hiring Ren at first sight was pure instinct but figuring out how to keep his hands off her will take iron will.
I loved that the romance between Dane and Ren was a slow build even though the two had an instant attraction. Dane was caring, gentle and patient....all things Ren needed after the last 4 years of her life. Even more, I loved the strong sense of family the Baylor's offered Ren and Kerri. Having never known what it's like to have a mother, both Ren and Kerri needed the nurturing spirit that came from Ella.
Runaway Heart
is a sweet and sultry read that plucked my heart strings throughout. It was nice to read a book where the drama was low and at the heart the book was what romance is all about. Two people finding one another in impossible situations. I'm giving this one 4 Sizzling Keys! Oh and I'm totally adding Amity Lassiter to my follow list on Goodreads so that I can grab a hold of Homecoming Heart which releases sometime in November!