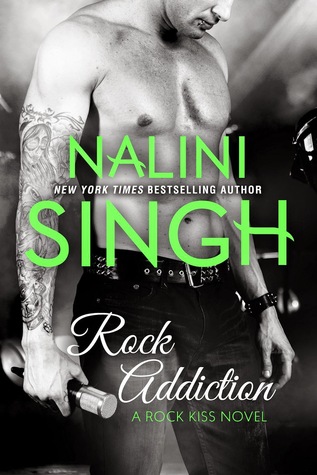 Title: Rock Addiction
Series: Rock Kiss, Book 1
Author: Nalini Singh
Genre: Contemporary Romance
Rating: 4 Sweltering Keys!
Disclaimer: A copy of this book was provided to me by the publisher in exchange for an honest review.
A

bad boy wrapped in a sexy, muscled, grown-up package might be worth a little risk…



Molly Webster has always followed the rules. After an ugly scandal tore apart her childhood and made her the focus of the media's harsh spotlight, she vowed to live an ordinary life. No fame. No impropriety. No pain. Then she meets Zachary Fox, a tattooed bad boy rocker with a voice like whiskey and sin, and a touch that could become an addiction.



A one-night stand with the hottest rock star on the planet, that's all it was meant to be…



Fox promises scorching heat and dangerous pleasure, coaxing Molly to extend their one-night stand into a one-month fling. After that, he'll be gone forever, his life never again intersecting with her own. Sex and sin and sensual indulgence, all with an expiration date. No ties, no regrets. Too late, Molly realizes it isn't only her body that's become addicted to Fox, but her heart…

Color me surprised when my absolute Favorite Author, Nalini Singh, announced she was going to start including Contemporary Romance to her resume of awesome writing!
Rock Addiction
introduces readers to rock band that has become a family in a sense. I will start by giving a disclaimer that I'm not really a fan of the New Adult genre so the beginning of this book got on my nerves. I never quite understand why writers develop characters that "chose" to hold on their their precious V-Card and then Whola give it up on a first date to a complete stranger!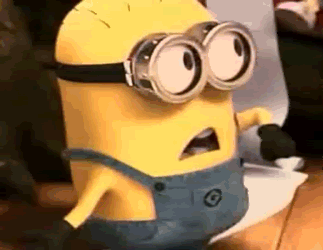 Anyway, once I got past their cheesy hookup and the fact that Molly is the cliche Librarian, I really found I enjoyed the book. Singh does an excellent job of building the supporting characters while also lining up future books. As with all Nalini Singh books, this one is chalked full of Sexiness!
Zachary Fox is what really made this book a 4 star review for me because he's not your average Rock Star. Fox ha reached a point where he is tried of endless nights of sex with nameless/faceless women. When he meets Molly, he decides she's exactly the type of woman he would like to settle down with and once he makes the decision to pursue her, he pursues her relentlessly! Nalini Singh wrote his character beautifully by effortlessly displaying the complexities of his character. Even more, by the end of this book, Fox's character has shown the other members of the band that having a monogamous relationship is something that can be beautiful and cherished.
I had a hard time with Molly's character throughout the book. She is twenty-four year old successful Librarian who is still a virgin before meeting Zach. She professes to enjoy her boring dull life because when she was a child her life was rife with scandal after her father was caught having an affair with an underage girl from her school. Her father's negative publicity caused the family an over abundance of negative media attention that eventually resulted in the family losing their fortune. Because of her history, Molly has vowed to stay away from the media and try to live her life in the shadows. A relationship with a rock star is just not something she can even consider! As you can imagine, her past has shaped the woman she becomes and Molly is completely insecure.
What I loved about
Rock Addiction
is the adversity the couple overcomes together. Zach is so patient with Molly and keeps the lines of communication open. He pesters and coxes Molly to open up and start to trust him. I loved how the two handled the "big issue" they get confronted with towards the end. I was not expecting things to work out so smoothly however, as Singh so creatively does with her other books, the characters make it through.
Rock Addiction
is a excellent start to the new
Rock Kiss
series by Nalini Singh. I'm totally signing my name on the dotted line as one of her new groupies! Book 2, Rock Courtship releases in just 2 weeks and I'm dying to get my hands on that one. The drummer is always interesting! I'm giving this one 4 Sweltering Keys!
Buy Your Copy Now!
Excerpt from ROCK ADDICTION
Fox hadn't become the lead
singer of one of the best-selling rock bands in history by being a shrinking violet. No, he went after what he wanted, no holds barred. And the raw promise he could feel between him and Molly? He had to know where it would lead, the need so strong he hadn't felt anything like it since the day he'd figured out that music was his escape, the air in his lungs.
Which was why he was leaning against the wall beside Molly's apartment at five that afternoon, a guitar by his side.
The elevator doors opened at a quarter after the hour, Molly going motionless two steps outside of it, the doors closing silently at her back. Yeah, she hadn't expected him, but Fox was ready to work with that. Waiting patiently as she took a deep breath and completed the trek down the corridor, he drew in the scent of her, his gaze lingering on the fluttering pulse in her neck.
"How did you get past security?"
Fox smiled slowly at the blurted-out question, wondering if Molly knew how bad she was at hiding her emotions. He liked it, liked that he saw the real Molly, not an illusion she'd created to tempt him—not that she had to do anything but smile to tempt him. "I told you the security sucks."
Unable to resist, he reached out to run his finger down one creamy cheek flushed with a mix of surprise, passion, and, he was certain, sweet, hot feminine anger. His guess was borne out when Molly unlocked her door with jittery hands and put down her handbag on one corner of the bench, her fingers trembling before she curled them into her palms. "You're breaking the rules."
"What rules?" Closing the door, he leaned back on it and willed her to face him. Much as he loved the shape of her from the back, he liked watching those expressive eyes whisper her mood to him.
Shoulders tight, she turned. "This was supposed to be a one-night stand."
"Ah." Folding his arms over the plain black of his T-shirt, he said, "How about a one-month stand instead?" He knew he had to play this exactly right. Molly was wary of him, and yeah, he could understand why. To have her in his life beyond a fleeting instant, he'd have to win her trust.
She jerked up her head. "What?"
"Why not? I like you. You like me." He smiled—because the reason Molly had needed to jerk up her head was that she'd been staring at his chest. "Admit it."
Sitting down on the bench, she began to unzip her boots, very obviously not looking at him. "You're okay for a rock star."
He wanted to bite her, then pet her until she was limp and languid in his arms. "We burn up together." Deliberately modulating his voice—his instrument—for maximum effect, low and bedroom rough, he saw her fingers stutter on the zipper. "I'm here for a month. It's an easy equation."
When the words "Let me think about it" fell from her mouth, he thought she might've been as startled as he was, her lips parting on a slight gasp—as if to call back the declaration.
NEW YORK TIMES AND USA Today bestselling author of the Psy-Changeling and Guild Hunter series Nalini Singh usually writes about hot shapeshifters and dangerous angels. This time around, she decided to write about a hot and wickedly tempting rock star. If you're seeing a theme here, you're not wrong.
Nalini lives and works in beautiful New Zealand, and is passionate about writing. If you'd like to explore her other books, you can find lots of excerpts on her
website
.
Slave to Sensation
is the first book in the Psy-Changeling series, while
Angels' Blood
is the first book in the Guild Hunter series. Once Rock Addiction is out, swing by the site to check out the special behind-the-scenes page, complete with photos of many of the locations used in the book.