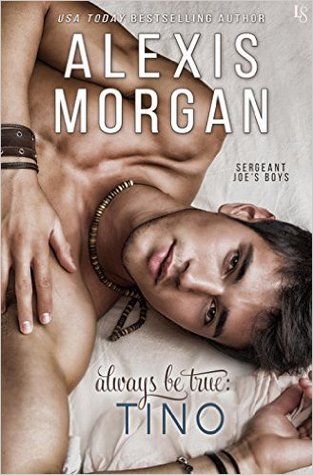 Title: Always Be True: Tino
Series: Sergeant Joe's Boys, Book 2
Author: Alexis Morgan
Genre: Contemporary Romance
Rating: 4 Sweltering Keys
**Disclaimer: A copy of this book was provided by Net Galley in exchange for an honest review.
When Sergeant Joe and his wife, Marlene, adopted Tino Gianelli as a teenager, the foster kid began to heal from his deep insecurities. Now, with a successful military career behind him and a good job as a contractor in the family construction business, Tino shouldn't have any reason to doubt himself. He's fallen hard for a beautiful heiress, and she seems to be crazy about him too. So why does he keep trying to hide his working-class roots?

Natalie Kennigan's ideal guy is someone who will consider her an equal and his best friend, not merely a box to check on the road to success. Tino—with his down-to-earth personality, generous heart, and passionate embrace—might just be the one, at least until he finds out about Natalie's family money and starts treating her like the typical rich girl who needs to be wined and dined. Natalie will have none of it. She won't be happy until he accepts her for who she truly is—just as she wants to love the real Tino.

Always Be True: Tino
was another solid edition to the Sergeant Joe's Boys series written by Alexis Morgan about 3 adoptive brothers who are not brothers by blood but became brothers through circumstance.
Tino is home from his his military career and trying to figure out what's next in his life when he meets Natalie. He's instantly attracted to her but struggles because he can't accept that someone of her social status and financial background would want someone like him in her life. While he struggles to come to grips with the difference in their bank accounts, Tino is slowly falling for the lovely Natalie.
Natalie was the type of heroine that I loved. She's selfless, believes in giving back to the community and even though she filthy rich, she doesn't see the need to throw her money at those around her. She loves Tino for the man that he is and it doesn't matter to her that he has a working class background.
What I loved most about this book were the supporting characters. The older couples at the senior citizens center and Natalie Grandfather just made the entire book come alive for me. I devoured this one in just a few short hours and look forward to reading the remaining books in the series. I'm giving this one 4 Sizzling Keys!