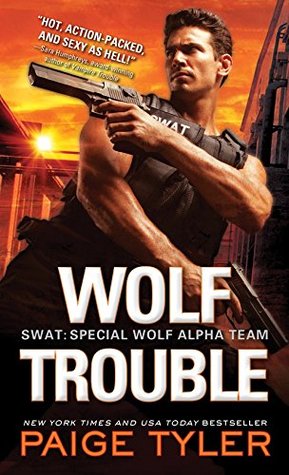 Title: Wolf Trouble
Series: SWAT: Special Wolf Alpha Team, Book 2
Author: Paige Tyler
Genre: Paranormal Romance
Rating: 5 Sweltering Keys
**Disclaimer: A copy of this book was provided by Net Galley in exchange for an honest review.
He's in trouble with a capital T...

There's never been a female on the Dallas SWAT team and Senior Corporal Xander Riggs prefers it that way. The elite pack of alpha male wolfshifters is no place for a woman. But Khaki Blake is no ordinary woman.

When Khaki walks through the door attractive as hell and smelling like heaven, Xander doesn't know what the heck to do. Worse, she's put under his command and Xander's protective instincts go on high alert. When things start heating up both on and off the clock, it's almost impossible to keep their heads in the game and their hands off each other...

I have been waiting for quite some time for a paranormal romance series to recapture my fascination with the genre that reinvigorate my love to read. Let's be for real....Nalini Singh only puts out 2 books per year and I need my fix more frequently than that! Anywho, Paige Tyler has made it to my list and I'm head over heels in love with her SWAT series. Book one,
Hungry Like a Wolf
, was awesome and I have been waiting with baited breathe for Xander's story. Ms. Tyler did not disappoint.
Xander Riggs is captain of one of the 2 SWAT Alpha teams and he loves his job. He inspires his men and is willing to put himself on the line when it comes to his team, pack and the citizens they serve. He's good with the life he has and the occasional woman he takes to his bed, but lately he's been wondering if the myth of the "one true mate" is really just a myth. Now that Gage has Mac, he can't help but wonder after watching those two interact. When Gage announces that a female wolf will be joining the SWAT team, Xander isn't sure how to feel, but when he catches a whiff of her scent, he knows he's in trouble. Not expecting for Gage to saddle him with Khaki on his team, Xander is unprepared to deal with the new addition and reacts poorly. Will Xander realize why her scent is so tantalizing, or will he drive himself insane trying to keep her at an arms length?
Khaki Blake had no idea that she was a wolf until one unexpected police call left her alone and fending for a victim with no backup. Shot, hurt, and desperate to keep the woman safe, Khaki realizes that she is experiencing something strange when wounds begin to heal quickly and strength she shouldn't have is pouring into her. After months of dealing on her own with a police force that has turned their back on her because of one particular officer, Khaki is ready for a change. When Gage offers her a spot on the SWAT team, she jumps at the opportunity until she meets Xander and experiences his icy demeanor. Can these two move past their insecurities to see what's really in front of them?
Xander and Khaki were explosive from the very start. I loved that both characters worked hard to resist the pull out of respect for the safety of their team. When they finally gave into their desires, it was off the charts. Xander's patience with Khaki and understanding of her circumstances were sweet and touching. I really enjoyed her interactions with the other members of the team and how they went out of their way to make her feel welcome after discovering what she had gone through with her police force. Paige Tyler just keeps getting better at these books and I'm looking forward to where she takes things next. I'm giving this one 5 Sweltering Keys!