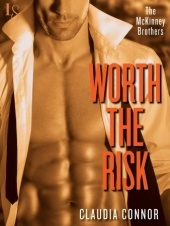 Title: Worth the Risk
Series: The McKinney Brothers, Book 2
Author: Claudia Connor
Genre: Contemporary Romance
Rating: 5 Sweltering Keys
**Disclaimer: A copy of this book was provided to me by Net Galley in exchange for an honest review.
Two hearts locked away . . . Hannah Walker spends her days coaching children through injury and trauma, one therapeutic horseback ride at a time. She knows all too well how violence can change a child and leave scars that never heal. It's easy for her to relate to the kids; what isn't easy is the thought of facing her own harrowing past.

Millionaire playboy Stephen McKinney could use a little coaching himself. Five years ago he encountered his most horrible nightmare—and the nightmare won. No matter what he achieves, nothing can make up for that awful night . . . or so he believes.

Both desperate for a second chance . . . Stephen is used to getting what he wants. And he wants Hannah. So when she turns him down, he's intrigued. What he doesn't know is that her secrets will lead him to a place he never wanted to go again . . . to a side of himself he's tried to forget . . . a side that would scare Hannah away from ever loving him. Now his only chance to win her trust is to bare his soul, risking everything he tried so hard to protect.

Claudia Connor delivers a FAN-Freaking-Tastic followup to her new McKinney Brothers series with
Worth the Risk
, which is book 2 in the series and features older brother Stephen. This book has everything I love in a contemporary romance....a sexy but wounded hero, a broken but not torn heroine, a few misunderstandings, and loads of sexy time!
Stephen McKinney is a wounded soul that willingly separated himself from his family in an effort to protect them from his "dark" side. After one tragic night leaves him broken, he thinks he will never willingly allow love to take root in his heart again. He's well on his way to proving himself right until one wrong turn leads him to a small farm his business partner is interested in buying. Upon his first look, Stephen declares the land isn't worth the money but soon discovers the hidden jewel is not in the land itself but in the current owner Hannah who runs a therapeutic horseback school for wounded children.
Hannah has lived her own version of hell. Having gone through a traumatic experience when she was just a young teen, she has fought tooth and nail to gain her way back to some semblance of sanity. The key to her sanity is the basis to her horseback riding school for the wounded where she using horses and riding as a means for physical and emotional therapy to wounded kids. Having lived under the thumb of her older brothers, Hannah is happy to be finally living on her own and starting to re-embrace life. When she meets Stephen, she's instantly attracted but refuses to give him the time of day. Will she allow her fears to subside enough to take a chance at love?
There are so many angles to this story that will just break your heart. Both Stephen and Hannah are wounded and afraid to trust. Both have long-term scars but together they are beautiful. This book made me laugh, cry, and shout all at the same time. I loved the emotional depth Connor puts into her stories and these two are no exception. And with all of her books, family is at the center of the storyline.
Worth the Risk
was definitely a 5 key read for me so if you loved the first book and you enjoy an emotional roller coaster in your favorite book, pick up a copy! I'm giving this one 5 Sweltering Keys!