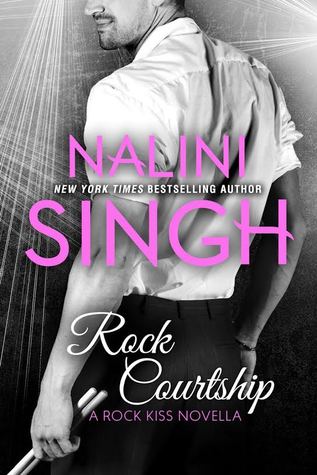 Title: Rock Courtship
Series: Rock Kiss, Book 1.5
Author: Nalini Singh
Genre: Contemporary Romance
Rating: 4 Sweltering Keys
*Disclaimer: A copy of this book was provided to me by Net Galley in exchange for an honest review.
What happens when the Gentleman of Rock decides to play dirty?

A drummer for the hottest rock band on the planet, David has a single, powerful weakness: Thea, the band's publicist and the woman who steals his breath away with her every move.

Only problem is, Thea doesn't date clients--or musicians. Emotionally scarred by a cheating ex, she's not about to risk her heart with a man who has groupies buzzing around him like flies. Even if his sexy smile ties her up in knots.

What she doesn't know is that David is a one-woman man...and he's madly in love with her. David's determined to prove he's worth the risk, and willing to court her, step by exquisite step. Thea's about to discover just how long and hard this handsome drummer can play.

Rock Courtship
is a continuation of the sensual dance between David and Thea that readers witnessed in
Rock Addiction.
I was quite intrigued by their story in book 1, particularly because David seemed to be the heart of the band and the one Rock Star that wasn't interested in playing the field. Singh did not fall short of my expectations one bit with
Rock Courtship
because I absolutely loved it!
David is one of the band members that came from poverty, however he also has a strong sense of family, and an undying loyalty that just makes your heart swoon! *sighs* Having formed a strong kinship with the members of School Boy Choir while away in boarding school, David is determined and at times loyal to a fault. When he sets his sights on Thea, he stopped at nothing to get her to take a chance on love with him.....even after she flat turns him down and tells him no.
Thea is a hard working shark that knows how to bring media mongols to their knees with her icy cold demeanor. After having her heart broken by her cheating fiance, Thea has decided that she's not interested in putting her heart on the line. Even more, she would never compromise her career by making the decision to date a client, no matter how sweet, loyal and utterly sexy. When David asks her on a date, Thea is caught off guard for more reasons than she can count. Turning him down was hard, however considering he might offer her the future she needs to move forward is terrifying!
I loved everything about
Rock Courtship
, but the thing I loved most about this book was that the love between Thea and David was a slow burn. This approach was is very different than the relationship between Fox and Molly who was in instalust at first sight! I especially enjoyed David's creative use of memos to get Thea to consider his argument that she should give their relationship a try. Even more, I adored both Thea and David's families because their interactions with their families lent support to the character traits possessed by both Thea and David.
I will admit that I was a bit gun shy going into this one because the sex in
Rock Addition
was Way over the top, however Singh does a good job in toning it down for this iteration. I'm looking forward to getting more of Abe and Noah's stories. I'm giving
Rock Courtship
4 Sweltering Keys!