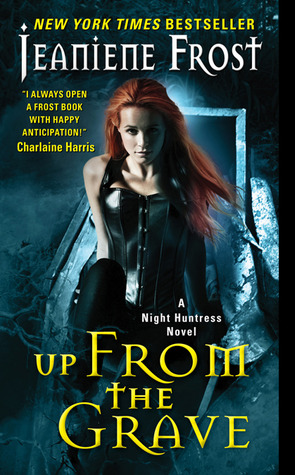 Title: Up From the Grave
Series: Night Huntress, Book 7
Author: Jeaniene Frost
Genre: Urban Fantasy
There's always one more grave to dig.

Lately, life has been unnaturally calm for vampires Cat Crawfield and her husband Bones. They should have known better than to relax their guard, because a shocking revelation sends them back into action to stop an all-out war…

A rogue CIA agent is involved in horrifying secret activities that threaten to raise tensions between humans and the undead to dangerous heights. Now Cat and Bones are in a race against time to save their friends from a fate worse than death…because the more secrets they unravel, the deadlier the consequences. And if they fail, their lives—and those of everyone they hold dear— will be hovering on the edge of the grave.
Up From the Grave
will have you running the
WHOLE
book. Cat is her usual get on your nerves self. She continues to not surprise me with the absolute stupid stuff she does. My heart actually broke at one part of the book because of Cat. I need for her to take many seats! Well since this is the last book for the series she has no other choice. LOL Bones is the same super understanding boyfriend that loves Cat to pieces. Cat is definitely going to be the death of him.(wink wink) We get some good Ian, Slade, Denise, Mencheres, and Tyler...well the whole crew moments. Don will work your
LAST NERVE
in this book. He has soooo many secrets it's just a hot mess. When the secrets finally start to surface about what he did to Cat
WHEW
get ready. Almost towards the end of the book you will get the
ULTIMATE WTF
moment. Be ready and don't scare the people around you.
This book was perfect. Jeaniene Frost was awesome at wrapping Bones and Cat's story. Nettie and I hope that Ian will get a spin off like Vlad. We get a chance to see that there is more than one side to Ian. Always keep in mind that this is the last book and we won't have to see what else Cat does that puts everyone's life in danger. Like this chick still needs an adult to hold her hand to cross the street.
Up From the Grave
receives 4 keys and a scorching heart. It probably could have been rated higher but Tavia Gilbert killed Bones. The way she made Bones sound was horrible. Nettie and I were reading the book until we purchased the audiobook then remembered why we did not want to listen to it. Yea like she made his part that bad.