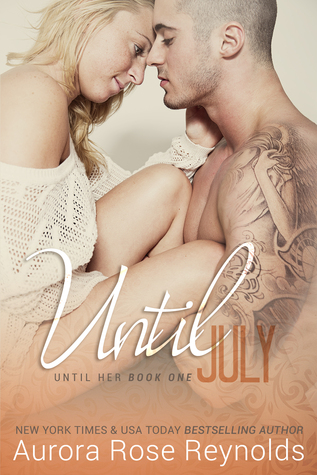 Title: Until July
Series: Until Her, Book 1
Author: Aurora Rose Reynolds
Genre: Contemporary Romance
Rating: 4 Sweltering Keys
** A copy of this book was provided to me by Net Galley in exchange for an honest review.
Wes Silver wasn't looking for love, but when July Mayson literally knocks him on his ass during their first encounter, his world is turned upside down by the quirky blonde, and every moment with her makes him more determined to protect her.

July Mayson doesn't understand the pull she feels toward the bad boy biker Wes Silver, but she knows being with him is like nothing she's ever felt before. Now all she has to do is tell her overprotective father, Asher Mayson, that she's found her boom.

I was captivated and instantly in love with Aurora's
Until Series
so picking up the spin off from that series to the Until Her Series was a no brainer.
Until July
features July, daughter to November and Asher, and her love affair with bad boy biker Wes Silver. I dove into this book loving every single minute of it and found myself having pulled an all nighter because I just couldn't bring myself to pick the book down.
I loved the strength of July's character. Her first encounters with Wes are not what one would call "love at first sight", it's more like "jerk at first lust"! July holds her own and having experience with a family full of alpha males, she gives back just as good as she gets. An adult that has moved from her parent's home, July works as a local veterinarian where she loves and cares for animals from all over their local community. When injured dogs start showing up on her clinic steps, July will risk everything to find out who's hurting the poor animals.
Wes Silver is an ex-military alpha male that has no intentions of falling in love. Having one failed marriage under his belt, he's not interested in getting caught up again....not until July nearly runs him over with her bike while trying to avoid an injured bird in the street. Now the beauty has captured his attention and he will stop at nothing to possess her mind, body and soul! He just has to keep her out of trouble and steal her father's heart.
Aurora Rose Reynolds definitely skirts the edge of sleazy when she rights the scenes that involves the MC. I wasn't sure how I felt about Wes being a biker when I first started reading the book but she pulls it off flawlessly. I enjoyed the intensity of the couple and really felt that she continued the strong sense of family that she initially developed with the Until Series. I'm looking forward to reading future books with all of the Mayson kids and can't wait to see how Jax's book will turn out. I'm giving
Until July
4 Sweltering Keys because it's HOT and she stole my heart!
Meet Wes & July in Until July!
Excerpt:
I sit up when I see a few bikes in the distance. I don't recognize their patches, but that doesn't surprise me. Tennessee has a huge MC community, and there are always new clubs popping up all over the state. I slow down as I close the distance between us.

The closer I get, the more details I can make out. The group of about five bikes in front of me are all Harleys, all ranging in colors from almost purple to black. None of the men are wearing helmets, which is the complete opposite of me, who is covered from head to toe in black leather. Even my helmet is all black, with leather piping.

I take the men in, noticing they are all well-built, their leather cuts displaying a large eagle, with its wings spread wide like it's midflight. The talons of the bird are carrying a long stem rose, with petals falling off it onto their club name, The Broken Eagles. I begin to speed up and pass them one by one, thankful for the security of my helmet, the black visor making it impossible to see me.

I keep my head straight until the last guy, the one who is at the front of the group, catches my attention. From the back, his hair is the first thing I notice. It's slightly long on top and buzzed on the sides. My eyes move to the expanse of his back, the wide set of his shoulders, and the tan skin covering his lean muscles. His bike is low to the ground, and the bars are in front of him in a way that he has to stretch his arms straight out, causing every muscle to flex and move, making it look like the tattoos are alive and dancing.

My eyes skim farther down over his chest, which is covered in a white tank top tucked into a pair of light jeans, and around his waist is a black belt with a large silver buckle. I continue to pass him, my eyes shifting from the road to him and back again. This time when I look over, his head is turned towards me, and if I didn't know any better, I would have swear he is looking directly into my soul.

"Holy shit," I whisper, taking in his hair, the set of his jaw that is covered in days of stubble, and a pair of light eyes I can't quite make out through the tint of my helmet. He is seriously hot, but equally scary-looking. I look from him back to the road. It must not have been even a second, but when my eyes go to the asphalt in front of me, I see a bird that is trying to make its way across the road, its wing hanging in an awkward position. I swerve to the right just in time to miss the poor animal.

"What the fuck?" I hear roared, and I look over my shoulder at the man who is now coming up quick on my right side. I yell an apology over the sound of my engine and his pipes. Do a quick wave and take off, lowering my body and pulling back the throttle, wanting to get away from them. Dude looks seriously pissed off, and even though I hate leaving the bird behind without helping it, I would like to live to see my next birthday.

I think I'm in the clear, but then the sound of pipes fills my ears, and I don't even know how it happens, but they all catch up with me, surrounding my bike. I can't make out what they're saying, but my stomach starts to roll at the sound of their voices. I feel my side to make sure I have the Taser my dad insisted I carry.

I see a clearing and pull my bike off to the side of the road. I know this is probably one of the stupidest things I have ever done, but if they keep chasing me like they have been, we could all end up seriously hurt. I pull over and don't even shut down my bike. I just lower my kickstand as my heart, which was already beating hard, begins to bang violently against my ribcage as they surround me.

"What the fuck is wrong with you?" the guy who was at the head of the group asks, stepping in front of my bike.

I shake my head as my words get lodged in my throat.

He pulls me off my bike, and the men who are with him begin yelling obscenities as well.

"Sorry," I croak out, and I don't even know if he hears me as his hand goes to the collar of my leather jacket, where he shakes me hard. My hand accidently presses down on the button that ignites the Taser. The loud crack fills the air, and his eyes go wide then he falls to the ground, and I fall on my ass and crabwalk backwards. I look up when I hit something, only to meet the eyes of another man, who looks pissed.

"Get up," he growls, picking me up. My feet flail under me as I'm lifted off the ground with my hands restrained behind my back.

"Hold him still," the guy who I had tasered growls in front of me as I try to get away from the anger I feel coming off him. His hands go to my head and he rips my helmet off, causing my hair to float down around me.

Complete silence descends. I swear no one even takes a breath.
About the Author:
Aurora Rose Reynolds is a navy brat who's husband served in the United States Navy. She has lived all over the country but now resides in New York City with her Husband and pet fish. She's married to an alpha male that loves her as much as the men in her books love their women. He gives her over the top inspiration everyday. In her free time she reads, writes and enjoys going to the movies with her husband and cookie. She also enjoys taking mini weekend vacations to nowhere, or spends time at home with friends and family. Last but not least she appreciates everyday and admires it's beauty.
Website:
http://aurorarosereynolds.com/
Facebook:
https://www.facebook.com/pages/Aurora-Rose-Reynolds
Twitter:
https://twitter.com/auroraroseR
Goodreads:
http://bit.ly/1pzLVIO
Pinterest:
http://www.pinterest.com/creynoldsauthor/
ENTER TO WIN!!!
a Rafflecopter giveaway