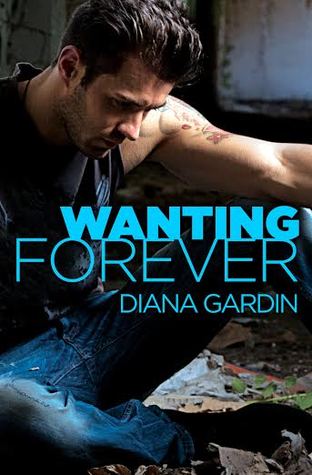 Title: Wanting Forever
Series: Nelson Island, Book 1
Author: Diana Gardin
Genre: Contemporary Romance
Rating: 3.5 Sizzling Keys
Disclaimer: A copy of this book was provided to me by Net Galley in exchange for an honest review.
Sometimes the one thing you want is exactly what you can't have.

For Sam Waters, it's Aston Hopewell. Talk about a girl out of his league. But he's just a hired hand, happy to keep his head down and work hard on her father's ranch. With a warrant out for his arrest, he can't afford trouble.

Everyone thinks Aston's life is perfect, but she knows the truth: nothing is as it seems. The only one who gets that is Sam. He understands her in a way no one ever has. But even he won't tell her everything-until the night that changes their destiny forever . . .

Sam Waters has lived his entire life protecting and caring for Ever. When a terrible accident leaves Sam with no choice but to flee his hometown, he leaves Ever in his older brother's care and lands a job at a ranch in Nelson Island. Thinking that he is working to start a new life for himself and Ever, Sam is thrown off balance when he meets the beautiful Aston Hopewell. Now he's questioning everything he's ever had with Ever while trying to hold true to his promise to give her the easy life she deserves.....or does she?
Aston comes off as a spoiled rich girl that has had everything given to her on a silver platter. But as more of her character is revealed, readers find that she is quite complex and her tough exterior is born from having to grow up a bit too young as a result of her parent's poor choices.
Wanting Forever
was a surprisingly good start to a new series. Diana Gardin was a new author to me and as I have admitted before, I'm a book cover whore so when I saw this one, I thought oh my that looks like it might be good. Well the book certainly takes off with a bang, drags a bit in the middle and then reinvigorates itself towards the end. I have to admit to wanting to murder Ever quite a few times throughout the book. I'm not sure her character can be redeemed but Diana Gardin has issued me a challenge to give her a try so I might.....maybe.....try to attempt to read Ever's story. Frankly the chick could burn in hell and I still wouldn't be satisfied but.......
While I really enjoyed the book and would certainly recommend it to all my friends, especially so that readers could get to know some of the secondary characters, there were a few flaws. Gardin opens a huge can of worms relating to Aston's relationship with her biological mother's history of cheating but never quite brings the situation full circle so I'm not sure how it related to the overall story. Likewise, Sam has been through hell and back with his mother and Gardin spends the time to recant his story but never really brings that full circle either. I would have liked to learn more about Aston's relationship with her mom and how it shaped her into the woman she became. Maybe readers will get more insight into their characters in future books that can resolve some of the questions I was left with.
Overall I really enjoyed the book, although I'm not dying to read Ever's story simply because I think that she was an ungrateful little prick that took from Sam and when she finally had an opportunity to give back, she selfishly took more! If you're looking for a cute love story with a bit of drama on the side, check out
Wanting Forever
by Diana Gardin.