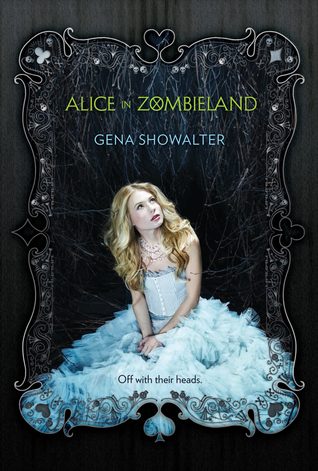 Title: Alice in Zombieland
Series: White Rabbit Chronicles, Book 1
Author: Gena Showalter
Genre: Young Adult Paranormal Romance
Rating:
She won't rest until she's sent every walking corpse back to its grave. Forever.

Had anyone told Alice Bell that her entire life would change course between one heartbeat and the next, she would have laughed. From blissful to tragic, innocent to ruined? Please. But that's all it took. One heartbeat. A blink, a breath, a second, and everything she knew and loved was gone.

Her father was right. The monsters are real….

To avenge her family, Ali must learn to fight the undead. To survive, she must learn to trust the baddest of the bad boys, Cole Holland. But Cole has secrets of his own, and if Ali isn't careful, those secrets might just prove to be more dangerous than the zombies….
Alice Bell had a good life except for the fact that her dad thought there were monsters in the night. Alice nor her sister Emma were allowed outside after night fall because of the father's fear. On Alice's birthday she got her mom to agree to go to Emma's dance recital. Unfortunately, this will be the last great experience she has with her family. After a horrible car accident that leaves Alice without her mother, father, and sister, she is sent to live with her grandparents. Of course Alice had nightmares about the accident, but the part that stayed burned in her mind were the zombies that ate her family.....her dad was right.
For a while, Alice stayed in a dark place. She did what she was asked and didn't make any fuss. That was until she met Cole Holland. Everyday the time she would see him, Alice would zone out into a type of daydream. What was weird was Cole had the same visions. Her best-friend, Kat, is the only person that supported her interest in Cole. Kat was dating a friend of Cole, Frosty, off and on so Kat was excited about them. Once Cole gets his hands on Ali and they both come to terms that there is something up with the visions and that Alice is not losing her mind but zombies actually exist, Cole starts to train her. There is something different about Alice but we will have to keep reading to understand what.
Alice in Zombieland
was a good book. Of course due to the name, one would think of
Alice in Wonderland
but it's not. There are some similarities between the two but Gena Showalter made this story her own. I felt bad for Ali when she lost her entire family. That really sucked plus she couldn't really talk about her family because she thought her dad was crazy. Cole was like a breath of fresh air for her. He helped her see a whole new world. This made Ali feel bad about not having faith in her dad but she worked to avenge her family. On the day that her family died, Alice pointed out a cloud formation that looked like a white rabbit to her little sister Emma. Now every time Ali sees this cloud, she believes that she will be in a car accident. Luckily, there is a good surprise behind that cloud that you will have to read about....not gonna spoil the book for you. Alice, Cole, and the gang fight there way through the whole book trying to understand why the zombies have their focus on Alice. The answer to that question is a kicker. Also have some tissue by your side because this book is surely a tearjerker.
Alice in Zombieland
gets some sultry/wicked keys for it's overall storyline and it's young adult awesomeness.