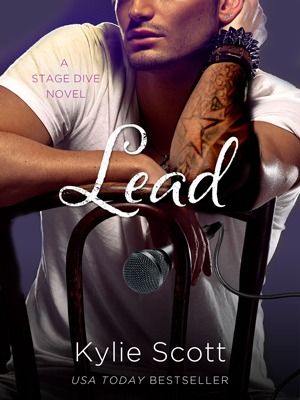 Title: Lead
Series: Stage Dive, Book 3
Author: Kylie Scott
Genre: Contemporary Romance
Rating:
As the lead singer of Stage Dive, Jimmy is used to getting whatever he wants, whenever he wants it, whether it's booze, drugs, or women. However, when a PR disaster serves as a wake-up call about his life and lands him in rehab, he finds himself with Lena, a new assistant to keep him out of trouble.  

Lena's not willing to take any crap from the sexy rocker and is determined to keep their relationship completely professional, despite their sizzling chemistry. But when Jimmy pushes her too far and Lena leaves, he realizes that he may just have lost the best thing that ever happened to him.

Wow......just WOW! Kylie Scott Rocked my world with
Lead
,
her latest addition to her popular series Stage Dive
!
From the start, I knew Jimmy's book would be heartbreaking and a difficult book to write because he's such a complex character.....but I had no idea when i picked this book up that I would absolutely Freaking LOVE Jimmy Ferris!
Even more, I LOVED Lena!
Let's start with Jimmy. He's the band lead singer with a history of drug and alcohol addiction, and a certified self-proclaimed Asshole! Jimmy's story starts to take shape during the same time frame as Mel's story. Lena is chosen to take of the responsibility of being Jimmy's sobriety companion. She's the perfect choice because she's a hard ass and doesn't take any of Jimmy's mess! More importantly, she has the backbone to take Jimmy's snarky nasty comments, but also has the ability to see straight through to the heart of who he really is! When Jimmy has a total meltdown right before Mel's mother's funeral, it's Lena that calms him down and helps him find his center. What she wasn't expecting though, was to find herself in Jimmy's arms while he cries over the loss of the only woman that acted as a mother should towards him and Davie. Even more, Lena never ever expected to find herself touched by Jimmy's actions in a way that leaves her open to falling in love with him!
As the love story progresses, Lena finds out more about Jimmy's past and how his "egg donor" mother treated him and Davie as kids. Readers get an inside look at the past events that shaped who Jimmy became. There story spans most of the book with Jimmy finding that Lena means everything to him, however he's never felt love for anyone but Davie and the band so he's not really sure what he's feeling. After many misunderstandings, Lena continues to stand my Jimmy's side until she makes the decision that loving him hurts too much when he doesn't feel the same way. In an effort to put herself out of her misery.
This book was such a treat because we get to see Jimmy blossom and grow because of the unconditional love he gets from Lena. She believes in him, even when he doesn't believe in himself. At times, I thought she should have left him but she stuck it out and the outcome was beautiful. My favorite moment in the book was when Jimmy realized what he felt for Lena was actual love. *Sighs* I'm giving
Lead
5 Keys and 1 Caged Heart because the story was so well written and these two burnt up the pages!